When you are looking for entertainment for your 4 or 5 year old, there aren't many better options than an awesome Disney movie.
Most of us have very fond memories of watching Disney movies while growing up, particularly as Disney (and their subsidiaries like Pixar) have created some of the most iconic movies in cinematic history.
When choosing a Disney movie for a toddler you have to be mindful of their limited attention span and consider that even relatively innocuous scenes or storylines can be scary for a 2 or 3 year old.
But when selecting a Disney movie for a 4 or 5 year old, you have the luxury of more options.
So let's check out our list of the best Disney movies that 4 and 5 year olds will enjoy.
Although don't be surprised if the whole family loves these titles or if they make it into your next date night with your child!
10 Best Disney Movies For 4 & 5 Year Olds
Alice In Wonderland
Lewis Carroll's beloved fantasy tale is brought to life in this Disney animated classic.
When Alice, a restless young British girl, falls down a rabbit hole, she enters a magical world.
There she encounters an odd assortment of characters, including the grinning Cheshire Cat and the goofy Mad Hatter.
When Alice ends up in the court of the tyrannical Queen of Hearts, she must stay on the ruler's good side — or risk losing her head.
The Jungle Book
Raised by a family of wolves since birth, Mowgli must leave the only home he's ever known when the fearsome tiger Shere Khan unleashes his mighty roar.
Guided by a no-nonsense panther and a free-spirited bear, the young boy meets an array of jungle animals, including a slithery python and a smooth-talking ape.
Along the way, Mowgli learns valuable life lessons as his epic journey of self-discovery leads to fun and adventure.
Frozen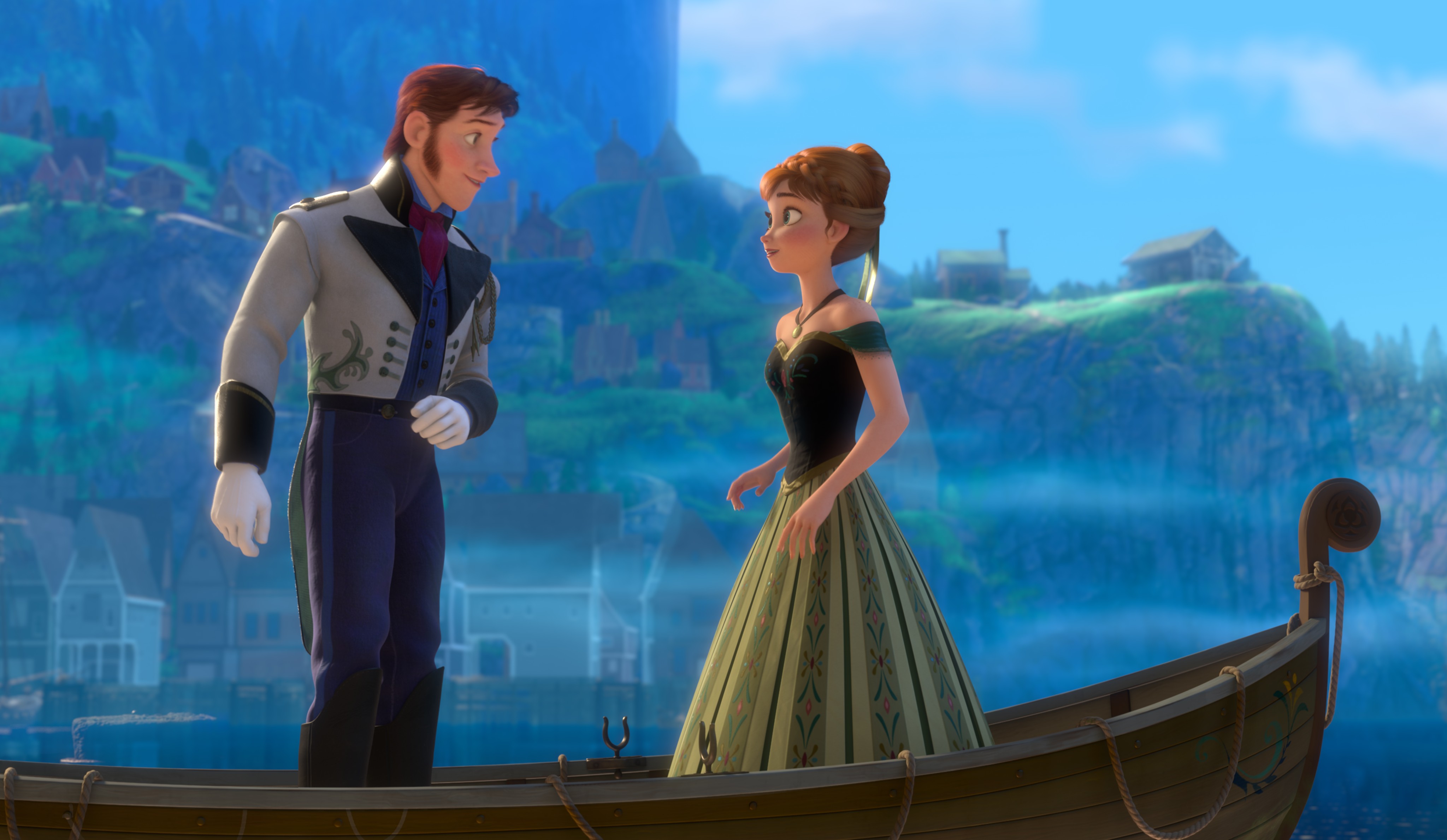 When their kingdom becomes trapped in perpetual winter, fearless Anna joins forces with mountaineer Kristoff and his reindeer sidekick to find Anna's sister, Snow Queen Elsa, and break her icy spell.
Although their epic journey leads them to encounters with mystical trolls, a comedic snowman, harsh conditions, and magic at every turn, Anna and Kristoff bravely push onward in a race to save their kingdom from winter's cold grip.
101 Dalmatians
In a Disney animation classic, Dalmatian Pongo is tired of his bachelor-dog life.
He spies lovely Perdita and maneuvers his master, Roger, into meeting Perdita's owner, Anita.
The owners fall in love and marry, keeping Pongo and Perdita together too. After Perdita gives birth to a litter of 15 puppies, Anita's old school friend Cruella De Vil wants to buy them all.
Roger declines her offer, so Cruella hires the criminal Badun brothers to steal them, so she can have a fur coat.
Bambi
In a classic Disney animation, a fawn named Bambi joins his new friends, a young rabbit named Thumper and a skunk kit named Flower in happily exploring the woods.
Bambi is captivated with a young doe named Faline, and he learns from his doting mother and his father — the Great Prince of the Forest — that besides the delights of the forest, there is danger in open meadows where hunters can see them.
Though fear and tragedy touch Bambi's life, another spring brings renewal.
Cinderella
With a wicked stepmother and two jealous stepsisters who keep her enslaved and in rags, Cinderella stands no chance of attending the royal ball.
When her fairy godmother appears and magically transforms her reality into a dream come true, Cinderella enchants the handsome Prince Charming at the ball, but must face the wrath of her enraged stepmother and sisters when the spell wears off at midnight.
The Little Mermaid
In Disney's beguiling animated romp, rebellious 16-year-old mermaid Ariel is fascinated with life on land.
On one of her visits to the surface, which are forbidden by her controlling father, King Triton, she falls for a human prince.
Determined to be with her new love, Ariel makes a dangerous deal with the sea witch Ursula to become human for three days.
But when plans go awry for the star-crossed lovers, the king must make the ultimate sacrifice for his daughter.
Sleeping Beauty
Filled with jealousy, the evil witch Maleficent curses Princess Aurora to die on her 16th birthday.
Thanks to Aurora's guardian fairies, she only falls into a deep sleep that can be ended with a kiss from her betrothed, Prince Phillip.
To prevent Phillip from rescuing Aurora, Maleficent kidnaps and imprisons him.
The good fairies are the last hope to free Phillip so that he can awaken Aurora.
The Incredibles
It takes a will of steel to hide your superhero talents from a world that still needs you, yet no longer appreciates what you can do.
Battling a bulging belly and a boring job, Mr. Incredible longs for the glory days of upholding law and order while his superhuman family tries to fit in with their "normal" life.
Relief from quiet suburbia finally comes years later, when the family uncovers a diabolical plan and must bring together their respective strengths to save the day.
Toy Story
Ever wonder what toys do when people aren't around?
Toy Story answers that question with a fantastic fun-filled journey, viewed mostly through the eyes of two rival toys – Woody, the lanky, likable cowboy, and Buzz Lightyear, the fearless space ranger.
Led by Woody, Andy's toys live happily in his room until Andy's birthday brings Buzz Lightyear onto the scene.
Afraid of losing his place in Andy's heart, Woody plots against Buzz.
But when circumstances separate Buzz and Woody from their owner, the comically-mismatched duo eventually learn to put aside their differences, and they find themselves on a hilarious adventure-filled mission where the only way they can survive is to form an uneasy alliance.
(Sources and Credits: Disney, Pixar, Rotten Tomatoes)